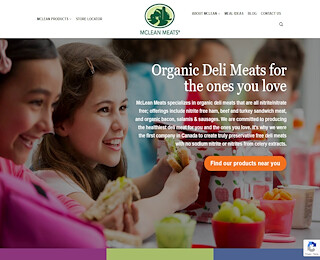 Do you want to purchase healthy sandwich meat? McLean Meats has a fantastic line of deli meats that are perfect for the health-conscious consumer.
Is There A Healthy Sandwich Meat?
You can purchase organic lunch meat. Even if you are buying organic lunch meat, it could potentially contain food allergens, and your ingredient list is essential. You want to make sure you read your label, and if you are choosing an organic product, you should be able to pronounce most of the ingredients on the label.
When choosing healthy sandwich meat, you will want to consider how much sodium and fat is in each serving. Look to see what a serving size is. You might be surprised to learn how small the suggested serving size is. Turkey usually has less fat than other meats, but it depends on if the meat is pressed or sliced from the turkey breast.
You may want to make sure there is no added sugar, so always look for "0" grams in the sugar line. If a product is labeled gluten-free, you can trust that it is. You would think all lunch meat was gluten-free, but it can pick up trace amounts when it is processed in a processing plant.
What Is In A Healthy Lunch?
If you have to pack a lunch every day you know, it can get tedious. Getting creative with your lunches doesn't have to be complicated. Choose from several different options and think outside the box. You might want to invest in a good hot food jar or a thermos which enable you to bring:
Burritos
Leftovers
Soups
Stews
Stir fry
You can always make healthy sandwich meat wraps, with cheese and flatbread. If you are lucky enough to have a way to re-heat your food at work, packing lunch is much easier. You can pack an excellent lunch and have a hot lunch at your desk.
Packing lunch for a school-aged child is more difficult because children can often be picky eaters. They can eat the same items we do, but if you have a problem later, you will want to spend extra time considering what foods they will eat for sure. For a child's lunch, you might want to think about the following items:
Finger foods
Fresh fruit
Fresh veggies
Green salad
Wraps
If you have a thermos, the child can easily open, you can send in hot items like soup and leftovers from dinner. Everyone's lunch should include a wide variety of different foods from all of the food groups.
Is The Canadian Food Pyramid Changing?
Yes, Canada has new food guidelines. We are changing the way we approach the dietary requirements. New guidelines are:
Add Fruits and vegetables
Add Plant-based proteins
Add whole grains
Avoid alcohol
Avoid all processed, prepared foods and beverages
Cook more at home
Drink water almost exclusively
Read and pay attention to all food labels
Replace saturated fat with unsaturated fat
The new food guidelines do not specify portion size but make more recommendations on cooking at home, knowing where your food comes from, and growing and harvesting your own. McLean Meats can be part of a healthy diet.
Healthy Sandwich Meat
McLean Meats
778-285-1333
443 Wismer Street
Waterloo
Ontario
N2K 2K6
View Larger Map
We welcome your comments!