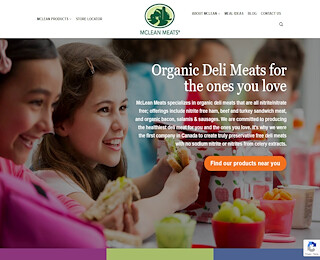 Everyone loves a slice of bacon at breakfast, but what if that bacon isn't entirely healthy? Unfortunately, most processed meats contain preservatives to keep them fresh for longer. At McClean Meats, we have decided to turn over a new page in the food industry. We bring you nitrite-free bacon, a tasty and healthy snack for any breakfast!
What bacon is nitrite-free?
Nowadays, you'll have trouble finding processed meats that don't contain preservatives or celery extracts. Both of these elements have nitrites in their composition, and this is a problem. The World Health Organization has presented a potential link between nitrites used in meat curing and cancer. Therefore, everyone would do better to steer clear of such suspicious products.
Our company has one goal in mind – to become the number one provider of preservative-free, healthy, and tasty meat products. We're the ones who bring a solution to the nitrite problem. Our recipes and meat-based products all have the same origin – the animals we grow ourselves in natural and humane environments. Our bacon doesn't contain any nitrites or any preservatives for that matter.
Buy healthy bacon
There's no reason to waste time looking for healthy meat products anywhere else. Our production line has an extensive variety of pork, beef, chicken, and turkey meat products. Moreover, our products don't have:
Antibiotics
Gluten
Nitrites from celery extracts
Soy
Sugar
Preservatives
Carrageenan
This means we raise our animals using only natural food, instead of feeding them growth hormones or antibiotics. We abide by certain standards regarding animal raising, enforcing humane, and healthy growth methods. The resulting meat products have zero preservatives, zero celery extracts, and zero known allergens. You can enjoy our Cooked Roast Beef knowing it only contains beef meat, cane sugar, water, vinegar, sea salt, spice extracts, and dehydrated onion, for instance.
Processed meats are bad
Back in 2015, the World Health Organization publicly declared that processed meat increased the risk of cancer. This risk mainly comes from unhealthy methods of raising animals and curing meat. Preservatives and celery extracts lead to known side effects on humans.
If you want nitrite-free bacon, you come to us! We disallow the use of antibiotics or pharmaceutical medicine to improve our animals' growth rate. We maintain excellent hygiene, and we treat them humanely above all. Moreover, we never include additives or preservatives in our products.
Can you buy bacon without nitrites?
If you know the right store to go to, then you will surely find nitrite-free bacon, among other healthy products. Our line of products is present in many stores across Canada. If you're looking for the nearest one, you can use the Store Locator feature on our website to find it.
McClean Meats supports the paleo diet and a healthy eating regiment that boosts your body's immune system. Instead of poisoning you with nitrites and preservatives, we keep our meat products clean and healthy. We also exclude all known allergens from our products so that you can enjoy a nutritious breakfast with your family.
Nitrate Free Bacon
McLean Meats
778-285-1333
443 Wismer Street
Waterloo
Ontario
N2K 2K6
View Larger Map
We welcome your comments!