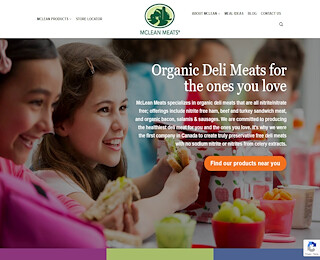 You may think that all deli meat is created equal, but that simply is not the case. Most brands claim that they are the best because they contain zero nitrates or have low sodium levels. The truth of the matter is that even though a deli meat brand says that they don't contain nitrates doesn't mean that there aren't any nitrates. In fact, you would be surprised by the nitrate levels that often are found in no nitrate deli meats. Most people cut deli meats out of their diets completely because of the high nitrate levels, high sodium levels, and the high number of preservatives found in most brands. All of the ingredients that go into deli meats to keep them fresh and preserved end up hurting the overall nutritional value. However, there is a brand that actually is made with zero nitrates and no preservatives. That brand is Mclean Meats.
Clean Deli Meats for Healthy Meals
Feeding your family clean foods can be hard to do because of the lack of clean products. At Mclean Meats, we take a great amount of pride in offering clean deli meats and other products at rock bottom rates. We make it possible to serve your family a meal of deli meats that are healthy, which is nearly impossible to do with the products on the shelves of most markets. At Mclean Meats, we created innovative solutions to help us produce healthier products produced by sustainable farms. We have an image of what the future should look like, which is why we go the extra mile to produce quality products. Our selection of products moves beyond the deli and into the frozen food section. We offer a wide inventory of clean food products that you will be proud to serve your family.
Humane, Stable Farming Makes a Difference
At Mclean Meats, we believe that humane, stable farming makes a difference in the quality of products that we produce. We offer products like nitrite free bacon to low calorie turkey jerky and everything else in between that is made with clean ingredients. We believe that putting care into the growth and gathering process can impact how delicious the final product tastes. We have products that contain beef, pork, and turkey so that our products appeal to the widest audience possible. We believe in the integrity of our products because we know they are made to meet the highest standards. From high protein snacks to full meals, Mclean Meats has products that are healthy and affordable. You won't feel a bit of regret or shame when you put Mclean Meats products on the table for your family.
Great Prices on Healthy Products
At Mclean Meats, we pride ourselves on offering some of the best rates on healthy deli meats and foods. While we need to make a profit, our brand is more concerned with producing quality, affordable products than getting rich. We are one of the few companies left that believe the customer should have the upper hand.
Nitrite free bacon
McLean Meats
778-285-1333
443 Wismer Street
Waterloo
Ontario
N2K 2K6
View Larger Map
We welcome your comments!