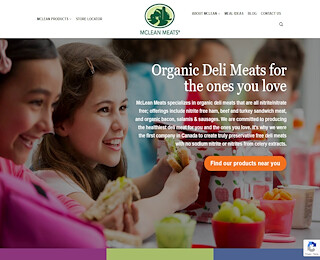 Do you prefer organic deli meat? Try McLean Meats.
Why Choose Organic?
Organic foods have a different nutritional profile than non-organically raised foods. Grass-fed beef is higher in omega fatty acids, but organic doesn't necessarily mean free from chemicals. Organic is better for the planet and the animals because the conditions in which they are raised must meet specific criteria. There is a big difference between traditionally raised meat and meat that is grown organically. In Canada, organic meat must be:
Free from synthetic hormones
Free from reproductive hormones
Antibiotic-free
Preservative-free
Free-range—have enough space indoors and outdoors
Fed only organically produced feed
When you purchase organic deli meat as a consumer, you are telling the industry you care about the planet, the welfare of the animals, and your health.
The meat industry is a significant contributor to climate change because it is estimated that 18% of global greenhouse gas comes from raising our meat. By making sure organically raised animals aren't fed synthetic chemicals, it helps keep soil and water contamination low.
Why Choose Organic Deli Meat?
Our organic deli meat contains no preservatives, no chemicals, or nitrites extracted from celery. Food allergies are on the rise around the world because of the ingredients in our food and environmental contaminants. Today's shoppers are concerned about processed foods and some common allergens they contain, such as gluten, soy, and dairy. Plus, always look at how long the ingredient list is. The fewer ingredients, the better. You want to eat "Clean, Real Food."
Consumers are becoming better educated on what is in their food and where it is raised and how. Deli meats can often contain ingredients you should avoid:
Aspartame
BHA (butylated hydroxyanisole)
BHT (butylated hydroxytoluene)
Corn Syrup
Added smoke flavorings
Sodium nitrate or sodium nitrite
Deli meat and processed meat products also contain an excess of sodium. One serving of certain deli meats can provide half of our daily recommended amount of sodium. Several common deli types of meat also contain wheat, soy, and milk products. Carrageenan is a common ingredient that can contribute to digestive problems. You should always strive to know what ingredients are in your food.
You might see "preservative-free," "all-natural," and other advertising and labeling misinformation.
What Do The Labels Mean?
If you have seen the non-GMO labels, you might choose to purchase those products, thinking you are getting a healthy organic product. This labeling does require specific standards, but it does not mean organic. Organic products ensure transparent food labeling and are trying to increase consumer's awareness about their food.
If a product is genetically engineered, it cannot use terms such as "free" or "100" percent. The NON-GMO project certification places tight restrictions on all minor and significant food ingredients. In Canada, the Canadian Organic Standards prohibit the use of GE products in the product. Still, some companies include the Non-GMO labeling to make consumers feel more comfortable about what they are purchasing.
You should strive to understand all the different labels and read the list of ingredients. If you want organic deli meat, try McLeans Meats.
Organic Deli Meat
McLean Meats
778-285-1333
443 Wismer Street
Waterloo
Ontario
N2K 2K6
View Larger Map
We welcome your comments!